Tork Smartone Toilet Roll Dispensers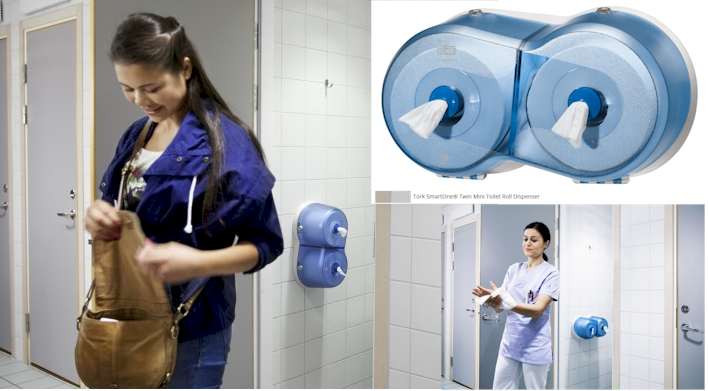 Single sheet dispensing, helps to reduce consumption by up to 40%*
Fully enclosed roll provides a more hygienic washroom experience
Shock resistant polycarbonate dispensers
Metal lock and key to prevent pilferage
* Statistics from internal research conducted in European countries on 7,729 users. Standard Tork Jumbo against SmartOne® Mini Double. SmartOne® lasts 37% longer than a Tork Jumbo roll (380m). VIEW SMARTONE TOILET PRODUCTS

FREE dispensers are available on request
Featured Products This Month
100297

100289

552000

552008

552100

552108
Why Choose Tork Washroom Hygiene Solutions?

Tork towels, soap and toilet tissue in Elevation plastic and aluminium dispensers
are found in millions of washrooms worldwide.
Tork paper napkins are used everywhere from upmarket restaurants to fast-food cafes.
Tork manufacturer SCA has a strong commitment to delivering sustainable solutions.
Tork products are designed to minimise their impact on the environment.
Tork dispensers give equal consideration to design and functionality
Tork dispensers are aesthetically pleasing, they are also easy to install and use.
Tork Paper Towels
Paper towels are the best guarantee for avoiding the spread of germs to other users and the environment Ref: Westminster Report.(pdf opens new window)
Tork provide 3 different dispensing methods to dispense their quality paper towels.
FREE Tork Dispensers Available - subject to key care agreement.
H3 Single Fold Towel System

- These towels have 2 panels and are folded into each other so that they dispense one only at a time. Large towel, excellent value for money.

................

(553000)

...............................

(553100)

........................

(100278)
H2 Express Multifold System

- These larger towels(4 panel or 3 panel) are both perforated and folded into each other so that only one towel is dispensed at a time. Larger towel, often one towel all thats needed

................

(552000)

...............................

(552100)

........................

(100297)
H1 Tork Matic Hand Drying Rolls

- Torks' premium hand towel dispenser. Allows only one towel to be dispensed at a time. Premium quality and especially good in high volume areas.
.

................

(551000)

...............................

(551008)

........................

(290016)
.
Tork Foam Soap Makes Hand Hygiene Easy
Tork foam soap is a long-lasting hygiene solution that is easy to use and kind to the skin. Note: Free soap dispensers available with this product call now for more details
it's easy
Tork foam soap lathers quickly for an effective and pleasant hand wash. It is also easy to rinse away afterwards. The dispenser requires a low push force so that even children and people with limited hand strength can easily access the soap. That is why Tork foam soap is recommended by the Swedish Rheumatism Association.
it's kind
Dermatologically-tested, mild Tork foam soap contains ingredients that care for sensitive skin - even when the hands are washed frequently. Tork foam soap is also environmentally accredited, therefore it is naturally kinder to the environment too.
it's more
High-capacity Tork foam soap is perfect for washrooms frequented by large numbers of visitors. One Tork foam soap bottle contains 2,500 doses which means it needs refilling less frequently. Tork foam soap gives you more by using less.
Improve your toilet room image, buy Tork foam soaps and get FREE foam soap dispensers.
Click here to view the Tork Foam Soap Range of products